How It Works
PWI Text2Give is a way for your supporters to make meaningful donations, instantly. All you have to do is share your Text2Give code—automatic replies will direct your supporters through the simple donation process.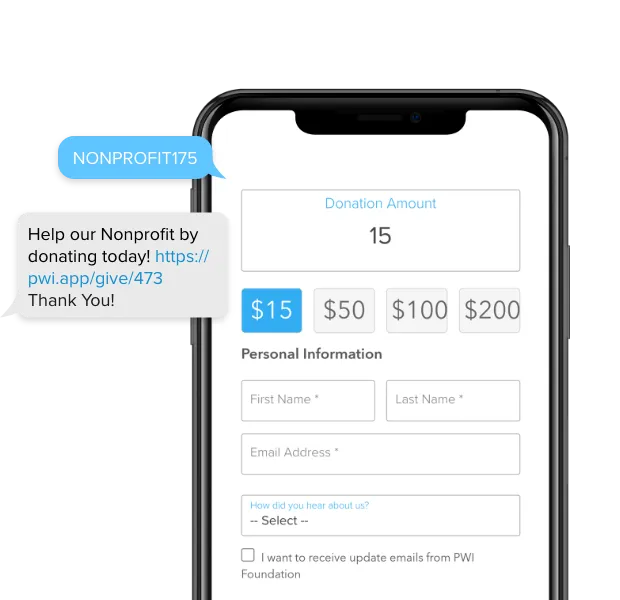 Setting Up Text2Give
Create your unique Text2Give code directly on your PWI Text2Give Dashboard. Enter a code and set it to make a simple donation or to send to another PWI product project. Each code needs to be unique, so if a code is taken, try something similar.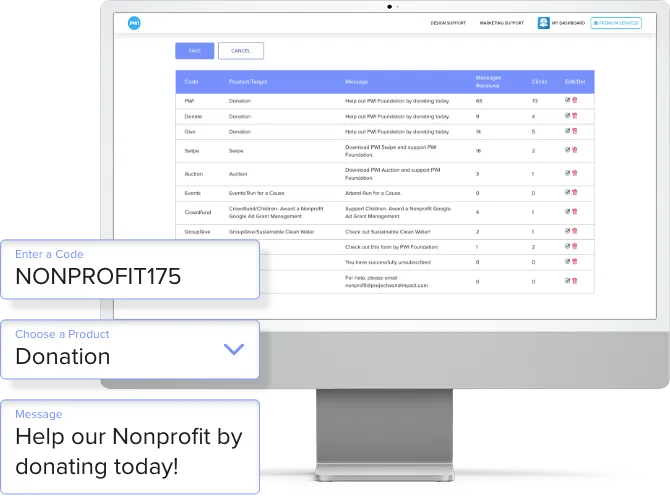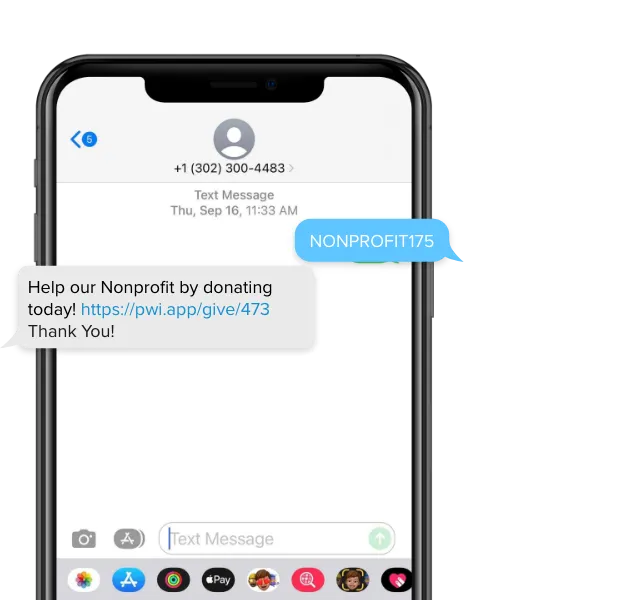 Viewing Donations
Visit the Text2Give Analytics page to track the donations made through Text2Give codes. View your complete donation data, or filter the information by each of your Text2Give codes.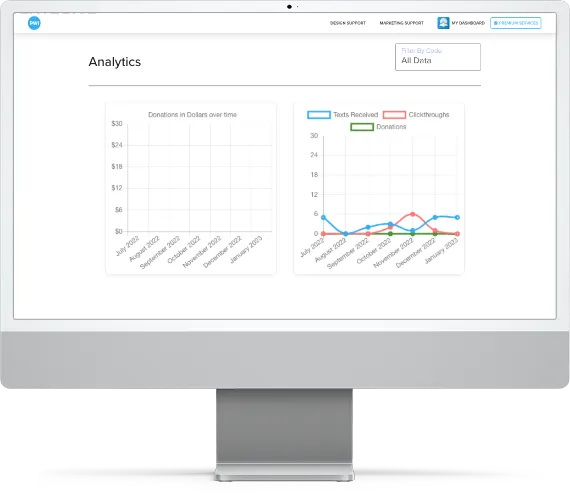 Basic Fundraiser Plan
Sign Up and Use Text2Give
The Text Giving Platform that Nonprofit Leaders Universally Love.
Basic Fundraiser Plan
$350

/mo
Additional Plans & Growth Oportunities
Enjoy using Text2Give on the Basic & Plus plans. We have other plans to help give your nonprofit an extra boost.
Basic Plan
KEY FEATURES:
Customizable Fundraising &
Donor Management System.
Seamless Integration to
Crowdfunding Platform.
Plus Plan
KEY FEATURES:
Customizable Fundraising &
Donor Management System.
Integrates to Crowdfunding Platform &
Peer-to-Peer Fundraising System.
Pro Plan
KEY FEATURES:
Customizable Fundraising &
Donor Management System.
Access to a Complete Suite
of Nonprofit Tools.
See What Our Users Are Saying About Text2Give
"Having worked with PWI for the past three years I can only say that they are the most generous, professional and personable people I have met in business in a long time. They are well run and they are extremely responsive. Their connections in the technology and Christian Ministry worlds have been helpful. I cannot recommend them more highly. Get to know them and you will be pleased – I am sure!"
"PWI is hard working and takes pride in producing qualify results. I appreciated working with them on projects that would make our ministry run more efficiently."
"PWI has been a valuable consultant in Christ to our ministry. Their work on has been very fruitful and working well for us. They have their enthusiasm, expertise and humble servant like attitude with us and we appreciate their efforts."
PWI has done wonders for our nonprofit. I am so thankful for them and their hard work!
We couldn't believe that PWI would offer a CRM system to nonprofit organizations for free. Who does that? Thank you, PWI.